---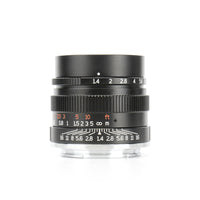 Sony 35mm lenses are pretty good but their E-Mount f1.4 offering is a Zeiss T* optic that is very expensive indeed! This fast compact lens is a great artistic choice for environmental portraiture, street and landscape photography, to say nothing of the value that it brings to your equipment bag.

This lens also works fine with Sony's APS-C E-mount cameras and provides 53mm full-frame equivalent coverage.
In a departure from other 7Artisans optics, this lens features a clicked aperture ring.