---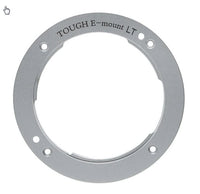 A replacement lens mount plate for Sony E-mount cameras. 
Unboxing and installation video from the manufacturer: https://www.youtube.com/watch?v=2H5EZP9Cf8E
Notes from the manufacturer: 
"Fotodiox built the new TOUGH E-Mount LT in direct response to customers' requests for a solution that would eliminate the light leaks common among E-mounts, and still share the easy installation process of the original. 'The TOUGH E-Mount LT' modification kit. The LT version incorporates extra flanges in the adapter that reduce the camera's light leaks to almost nil. In only 5 minutes, you can replace your camera's two-piece NEX mount with the LT's one-piece, all-metal mount (leaving your glass better protected and your images glare-free) and benefit from the LT's extra flanges, which completely eliminate the E-mount's problematic light leaks. All you need is a jewelers screwdriver (Phillips) to remove and replace four little screws."
Free Shipping