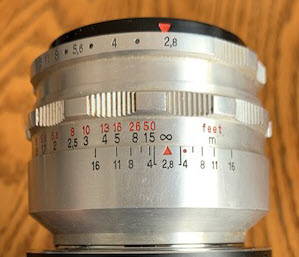 My father purchased this lens mounted on a Praktica Mk IV B on the same year I was born (1964) and I was among the first subjects taken with the camera/lens combination.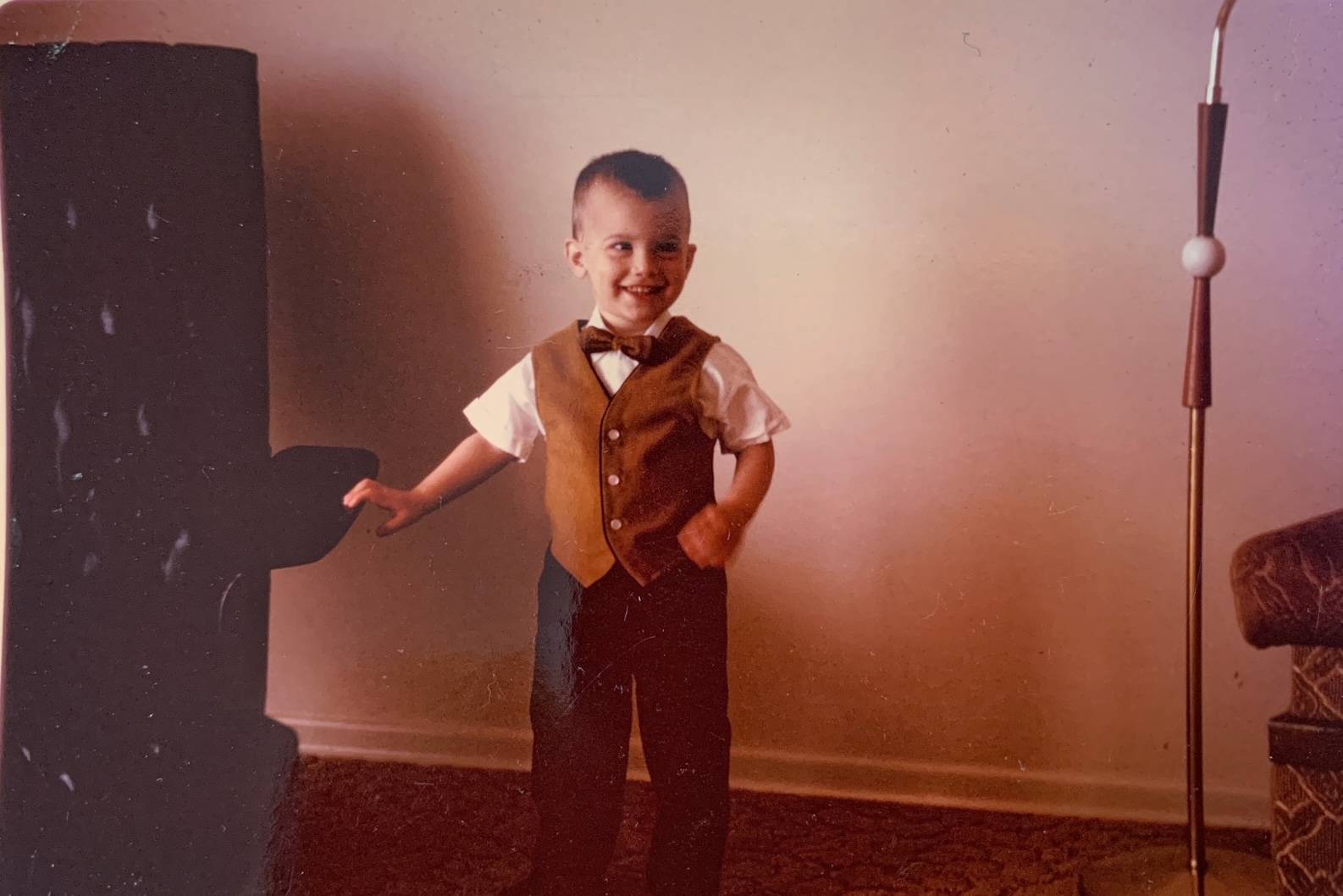 My second birthday. I'm pretty sure these photos are prints made from transparencies and have faded over the years.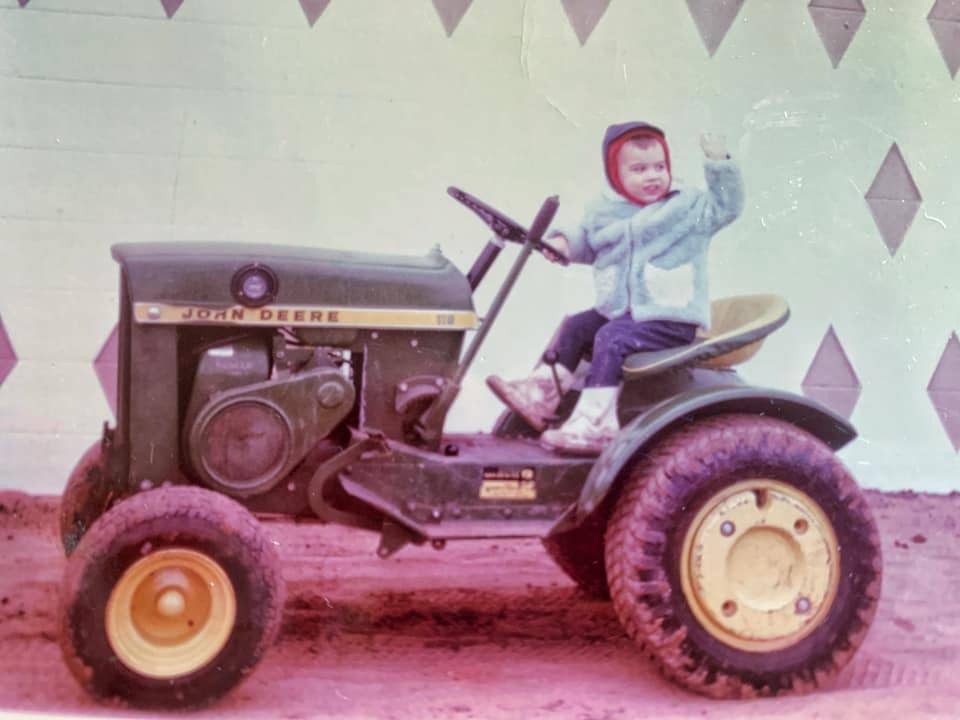 His work supporting
a young family...took him away
from this hobby
he hoped would flourish...
In the end, my father's photographic aspirations were not attained as much as he hoped. His work supporting a young family - I'm the oldest of five - took him away from this expensive hobby he hoped would flourish and the camera eventually sat unused for over a decade.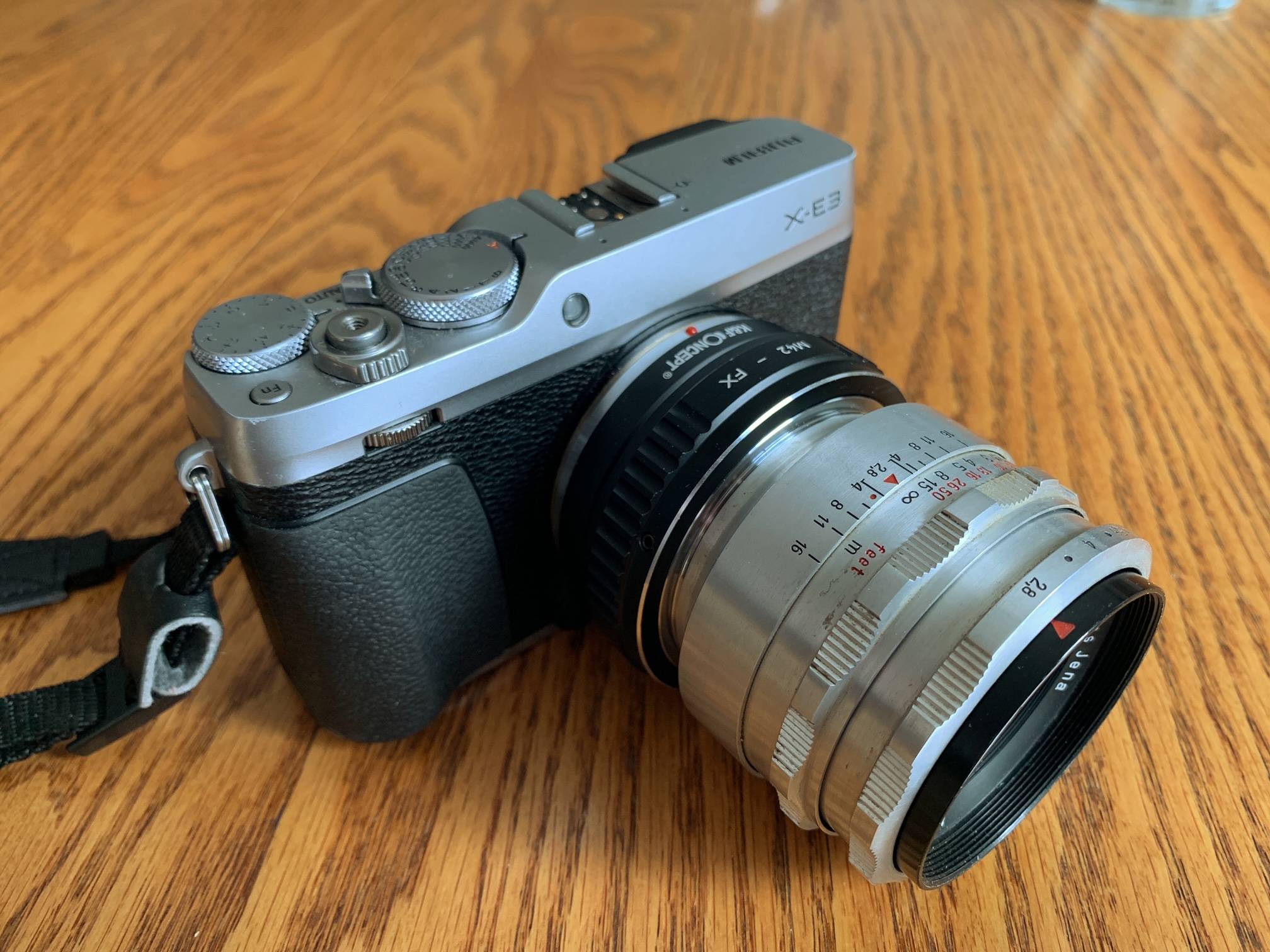 I started using the Praktica with this lens at a Sunday School picnic in 1975. I'm eleven years old figuring out exposure and focusing. Even though many articles on the web have indicated the Praktica had a split-image rangefinder that was not the case on my camera. Just ground glass to focus on. That was okay, I guess, since I had 11-year-old eyes!
I eventually convinced my parents to buy me a
Pentax K1000
(then a brand-new model) and enlarger in 1977. They kept the Praktica even after I continued my darkroom journey with Pentax gear through to my twenties and kept by my mother after my father passed in 2007, long after I had moved to digital expression. The camera has fallen into disrepair. (It is likely fixable but I'm not interested in chasing that down, at least for now) but the optic has remained clear and without oil smears on the diaphragm blades - protected in part by our dry prairie climate.
My mother asked me  
to take some memorabilia
from her home
she felt had meaning for me.
This past summer my mother asked me to take some memorabilia from her home that she felt had meaning for me. It was a kind of sad but I suppose necessary ritual - and of course I took the camera and lens. In starting this new business I had also purchased classic Nikon, Pentax and Minolta lenses in the last little while and will certainly post images take with them on our Instagram feed (
@ornisphoto
) in the coming weeks and months. But today is about this 56 year-old classic...
To get to use this lens, I used our
K&F Concept M42 -> FujiFilm X Mount adapter
on my FujiFilm X-E3. The screw mount on the adapter fit the lens perfectly and since the aperture release pin for the semi-automatic diaphragm is kept depressed against the adapter plate, full adjustment for the aperture is possible. It was a great novelty to peek through this old lens again.The mission then was to find what subjects to shoot. Here's one of the first test pictures I took with that combination. My daughter's dog.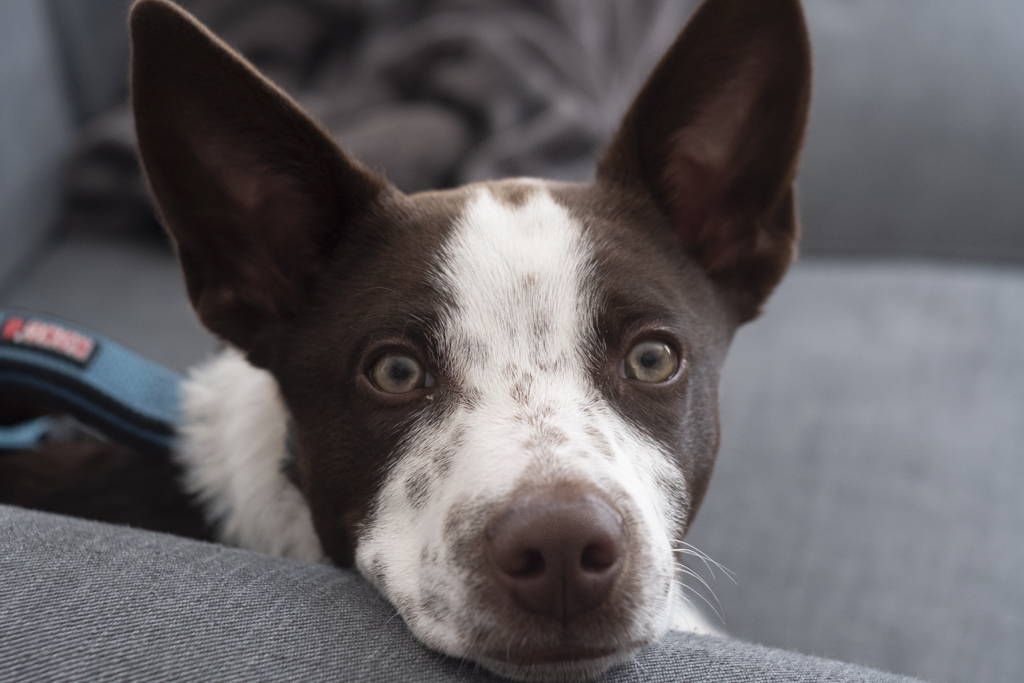 So far, so good. It's not broken, though it seems I almost need a pipe wrench to adjust focus! Actually, I remember it always being like that. I'm not much of a gear reviewer but I did notice the lens has a noticeable amount of flare and yields quite soft detail in the corners of the frame when wide open. Maybe not great for the latest/greatest lenses out there but certainly nothing that would prevent me from using it.
...I should try some rural subjects...
to honor my father whose
love for the country and farmers
was especially strong.
Next was to try to establish a connection to my roots through this old lens. I should try some rural subjects at first to honor my father whose love of the country and farmers was especially strong. My first steps out onto the highways and farmland outside of the city were tentative at best. All things considered, we have had a tolerable fall. One week-long blast of winter, then a big thaw and some very nice weather, indeed, for a couple of weeks.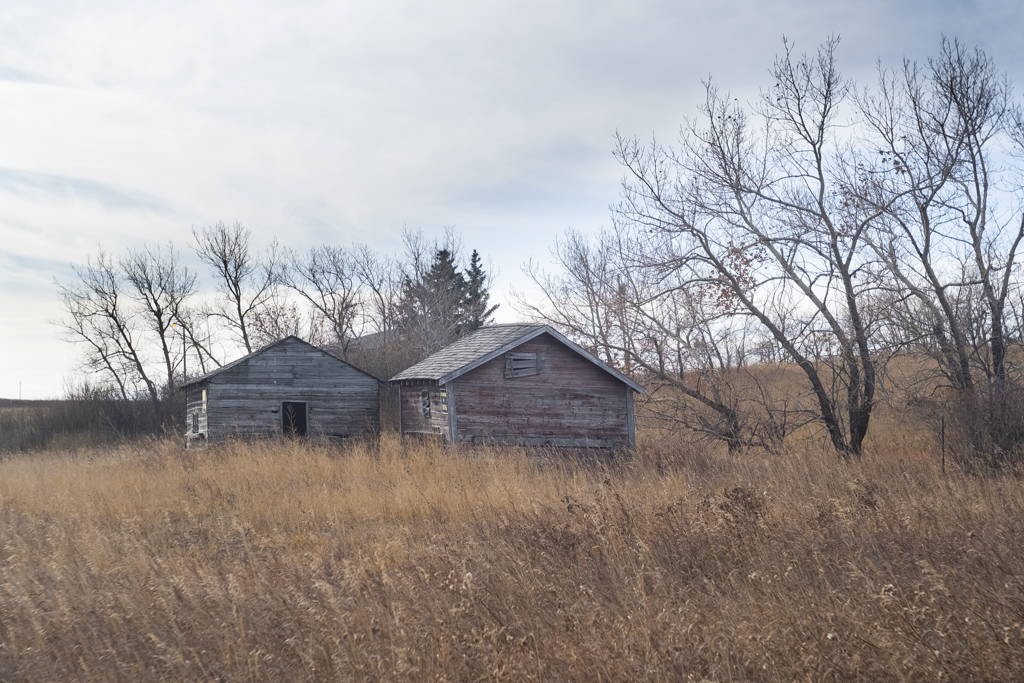 Hmm. Interesting...maybe, but not great. The leafless trees and brown grass foliage may appeal to some but I knew I wanted something with more atmosphere. I didn't have to wait long. A winter weather system roared in a week later packing relatively light snow but with 100 km/h (62 mph) gusts. I drove around in my wife's SUV and stopped at a few places just outside our fair city for some more wintry visages.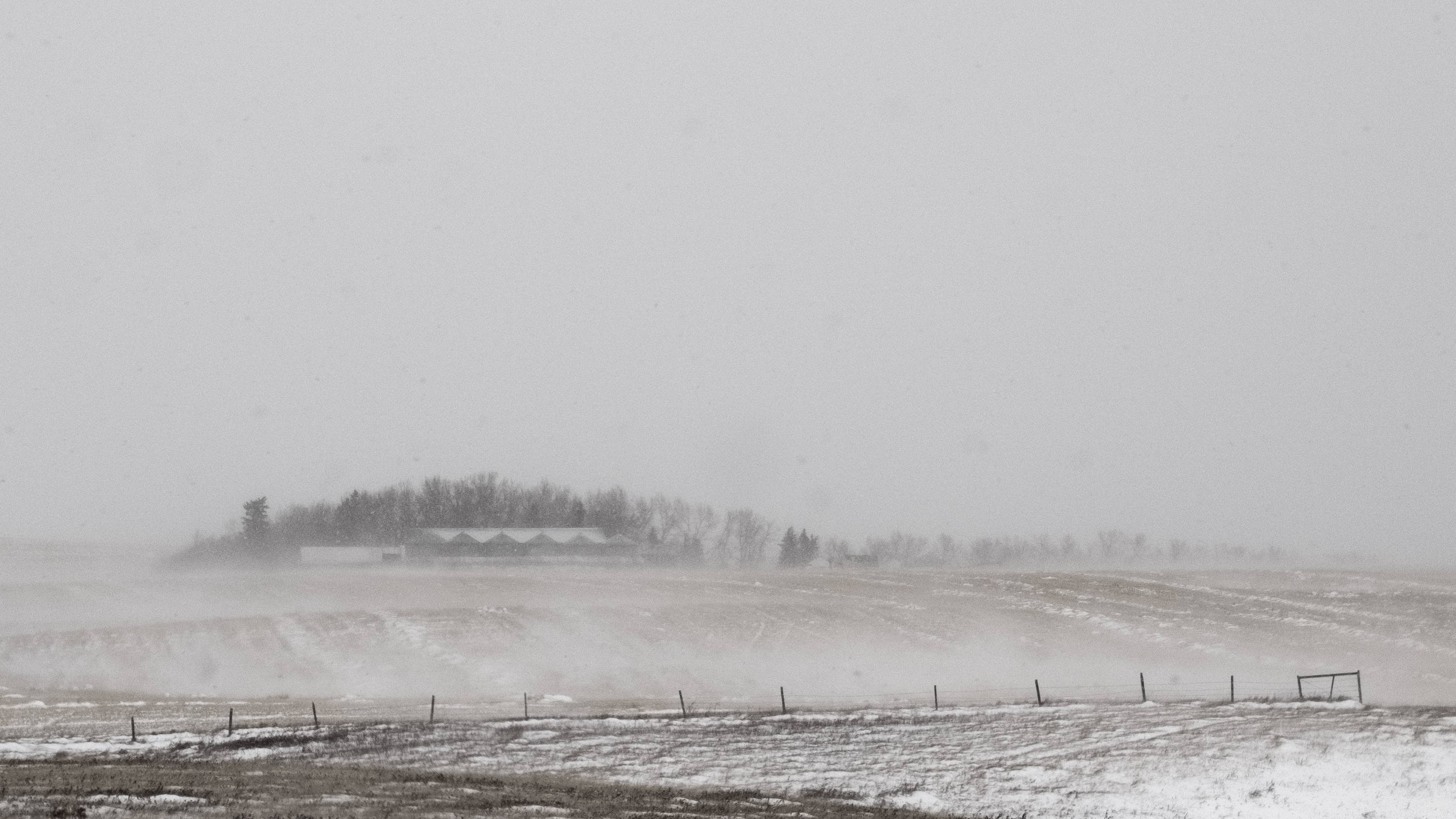 Now I'm starting to feel it!
Now I'm starting to feel it! Memories of childhood and adolescence including learning to drive in blowing and drifting snow, on pavement and gravel roads. While I now live some 550 km (340 mi) from my hometown, it's not difficult to conjure up the old feelings and vistas of my youth.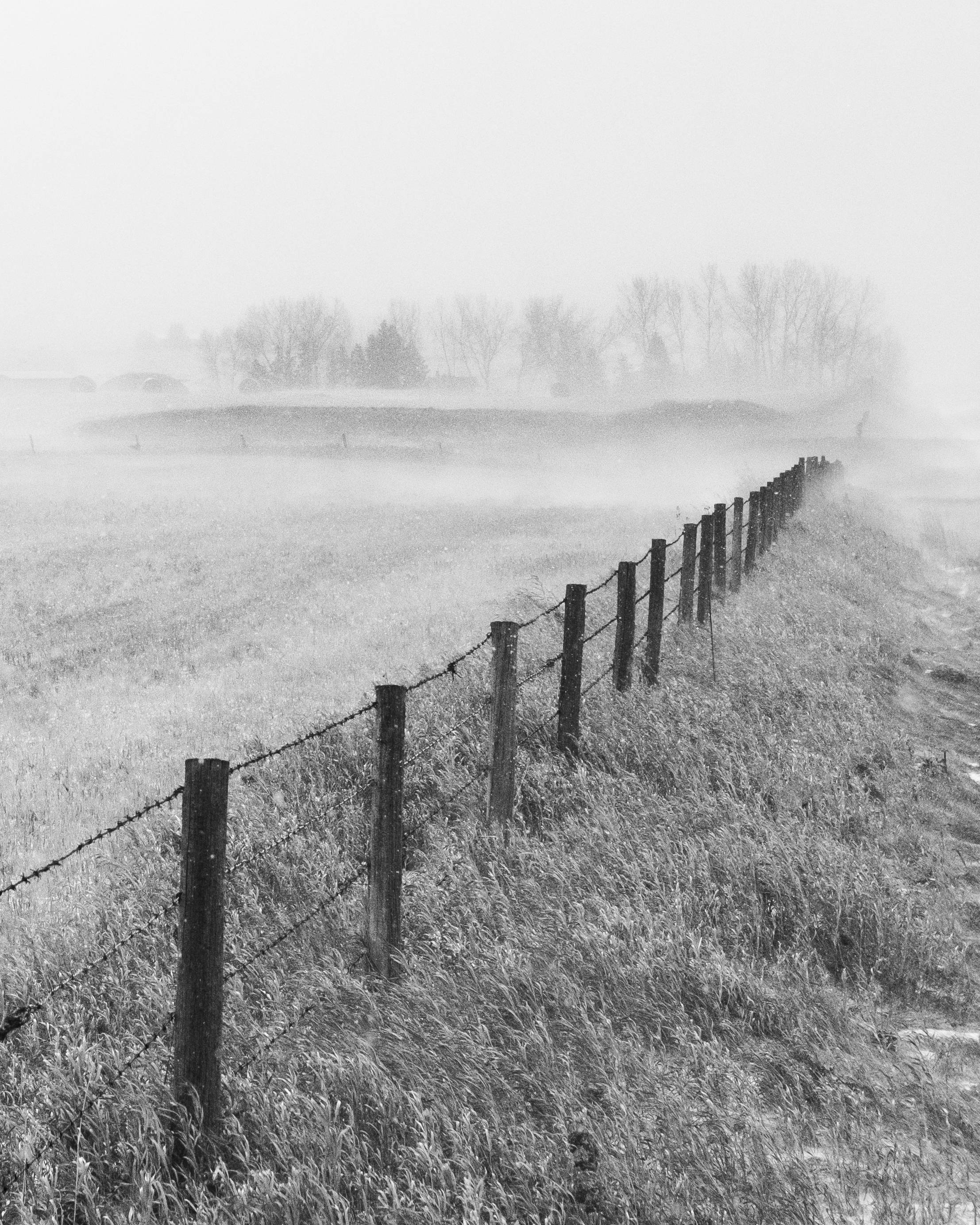 Upon reflection, the journey has become more emotional than I thought. Not just because of the generational aspect but because of the novelty of melding of old and new equipment. Maybe it's corny to anthropomorphize gear but I have caught myself thinking that lens has traveled through time beside me, perhaps waiting, and perhaps now it's about time we got together to create something. Not just because it's fun, but meaningful in ways beyond the simple satisfaction of creating art. And I have a good reason to work on more landscape subjects.
Thanks, Dad!
(Ward)